Abingdon Health is committed to developing and manufacturing high quality, reliable rapid tests for all partners and industries.
We demonstrate this by working within recognised quality standards.
Abingdon Health operates under an effective Quality Management System in accordance with ISO 13485 and ISO 9001, both of which are managed by our in-house QARA team and regularly audited by an independent organisation.
Our company, including best in class LFT manufacturing facilities, also works in accordance with IVDD 98/79/EC, IVDR 2017/746, FDA 21CFR829 and GMP 21CFR820. In addition, our facilities have medical device establishment registration with the FDA and MHRA.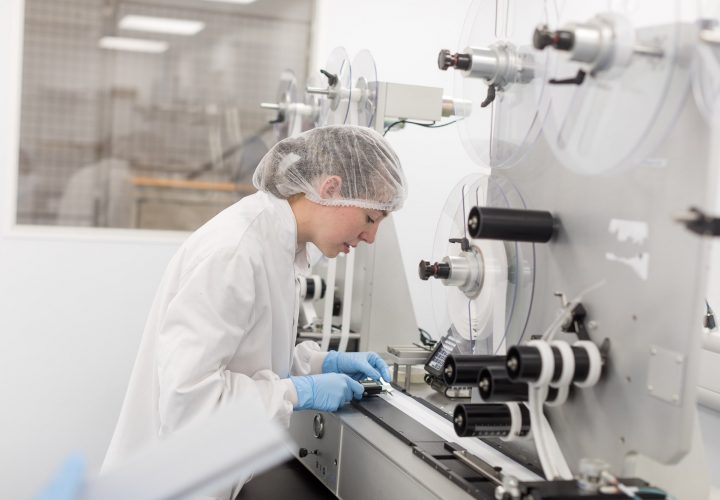 Certifications
These certifications are evidence of our adherence to internationally recognised quality standards.
ISO 13485:2016

An ISO standard that represents the requirements for a comprehensive quality management system for the design and manufacture of medical devices and related services that consistently meet customer and applicable regulatory requirements.

View certificate

ISO 9001:2015

An ISO standard that demonstrates a structured approach to quality management, to ensure that a company meets the needs of customers and other stakeholders while meeting statutory and regulatory requirements related to a product or service.

View certificate
Quality Policy
Abingdon Health is committed to providing its customers and regulatory authorities with products and services that meet or exceed their expectations for safety, quality and reliability. Our commitment to quality underpins all aspects of our business processes.
We achieve this by:
Complying with the relevant regulations and standards including ISO 13485:2016, ISO 9001:2015 and 21 CFR 820 FDA Quality System Regulations.
Evaluating and continually measuring Business Management processes and their effectiveness; enabling all personnel to deliver products and services that meet agreed quality standards, regulatory and customer requirements.
Ensuring Abingdon Health personnel are aware of, and have a clear understanding of, their responsibility to comply with the Quality Management System and its processes, as a well as regulatory requirements, to meet Quality and Company Objectives and achieve continual improvement of products and services.
Demonstrate leadership and commitment with respect to the Quality Management System by promoting the use of the process led approach and risk-based thinking.
Continue to nurture the company building blocks: 'Customer', 'Quality' 'People' and 'Collaboration' which form the foundations of the Company's culture and are key areas of focus across all functions of the business.
Abingdon Health maintains its Quality Management System through a process of continual improvement supported by annual reviews to ensure the highest standards of Quality management are maintained.
For further information relating to our quality standards please contact our QARA team at +44 (0) 1904 406050 or [email protected].